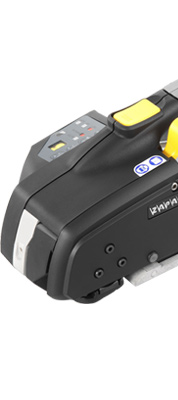 ZP90A NEW MODEL TOOL!
Aug , 2016
The NEW ZP90A Light-duty Strapping tools
Following the great success of the ZP93A/ZP97A tools, we are now expanding into an even wider range of strapping tools to further cater and support your specific application needs and requirements.
Our NEWEST model, the ZP90A tools is a Light-duty battery strapping tool designed especially for applications requiring thinner PP & PET plastic straps. The new ZP90A is developed based on the proven structure of ZP93A / ZP97A tools, and modified integral parts specifically for low tension force strapping applications. The ZP90A's exterior looks similar to ZP93A/ZP97A tools but with a different Control Panel color (metallic gold) to distinguish from ZP93A/ZP97A.
By adding the new model ZP90A, our Battery-Powered Strapping tool product line is now complete to suit your strapping demands:
ZP90A - Light duty (max tension 120 kg)
ZP93A - Standard duty (max tension 250 kg)
ZP97A - Heavy duty (max tension 400 kg)
Model No.

Fits
Poly-strap

Strap Width

Strap Thickness

Tension

Sealing Efficiency

mm

inch

mm

Inch

Range

ZP90A

PP & PET

9~13

3/8~1/2

0.50~0.85

.020~.034

15~120 kgs
(33~264 lbs)

85±5%
Remarks:
Tension performance and Sealing efficiency varies based on strap specification, quality, setting, and remaining battery power. Pre-testing before operation is required.